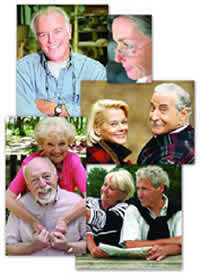 Simple Solutions for Complex Times
UNITED LIFE INSURANCE COMPANY'S
Single Premium Whole Life with
Living Benefit Rider offers . . .

Worry - free living today and a Tax-free legacy tomorrow

How can a product so simple provide worry-free living today and a tax-free legacy tomorrow?
If you have unforeseen expenses

You can use the cash value to secure a loan from the company.

If you are confined to a nursing home or experience a life-threatening illness or injury

You can use the LIVING BENEFIT RIDER* to receive a portion of the policy benefits (see example). The proceeds can be paid to you in a lump sum or as a regular monthly income.

Use the payments however you wish . . including offsetting medical expenses or supplementing other benefits paid for nursing home care.
Living Benefits Rider

Example:

Female -- Non-smoker -- Age 65

Premium: $ 50,000

Insurance Death Benefit $111,141

1/2 of Death Benefit = $55,570

70% of $ 55,570.50 = $ 38,899.35 available for Nursing Home as lump sum or payout over time period of your choice

Death Benefit Remaining:: $ 55,570

* Refer to rider for details. Not available on face amounts under $50,000.


A Tax-free legacy tomorrow
The GUARANTEED** death benefit
passes to your heirs income-tax free. In most states it is not subject to probate fees and the benefit purchased is more than the premium paid.
All this available from a variety of payment options
Lump Sum
funded by discretionary dollars, perhaps a CD or 1035 exchange of cash value from an older policy that is putting a strain on current cash flow.
Two equal semi-annual, or 12 equal monthly bank drafts.
The Guaranteed Increase Option.
You may elect to purchase increments of benefit annually for a specific number of years. This is particularly beneficial if
You have a number of investments coming due at different times
You annuitize an existing deferred annuity to redistribute the taxation of gain.
** to the extent it is not repaid, any loan against the cash value may reduce the benefit otherwise payable. Capitalization of unpaid interest on a loan may cause the policy benefits to be forfeited altogether.
LIP620 (01-07)
United Life Insurance Company